This is a sample newsletter
1. What is Average Order Value? 🤔
Average Order Value (AOV) is used to measure the average amount of money spent by a customer when they buy something from your business. It is primarily used in e-commerce businesses to determine the overall health and growth of the business. It helps marketers, product people & business owners understand how their business is performing on a macro and micro scale.
Having a benchmarked AOV allows you to understand customer behaviour based on changing trends and economic conditions. Based on the comparison you can decide to cut down on costs or invest back in the business for growth.
In times of recession, your AOV will keep you informed about the health of your business from an eagle eye's point of view!
2. How do you measure Average Order Value (AOV)? 💁🏼‍♀️
AOV can be measured by dividing revenue by total number of orders.
We've added examples from a B2B & a B2C product to help you understand AOV 👇🏼
a. Here's a B2C example to understand AOV: Amazon 📱
Let's say that Amazon had a total revenue of $100,000 over the month of Jan. Their total orders were 5000
So their AOV would be $100,000 divided by 5000
So the AOV for Amazon in the month of January of $20
b. Here's a B2B example to understand AOV: Salesforce 💼
Salesforce is a SaaS company that sells CRM licenses to other businesses. Let's assume that their sales team were able to generate a revenue of $1,000,0000 over the last year. The number of accounts sold to was 10
So their AOV would be $1,000,000 divided by 10
AOV of Salesforce would be $100,000
$100,000 / 50 = $2,000
But just AOV alone doesn't make a lot of sense for B2B businesses. It gives you a bird's eye view of things, but to understand the health of your business, you also need to look at other metrics like
Licenses per customer
LTV
Acquisition Costs
etc..
3. What are some tips to increase AOV in your business?
1. Free Shipping 🚢
Adding shipping or delivery charges are a major detractor when you're thinking about increasing AOV. But 'Free Shipping' is not the complete solution either. It can eat away into your margins, reducing overall profitability.
The best way to tackle this is 'Free Shipping with a minimum threshold'. Most e-commerce companies offer free shipping, but only once you reach a certain value or basket size. This promotes both high AOV and healthy margins.
2. Bundling products together 📚
You can couple frequently bought items and offer them as a bundle. Sometimes you can also test with a discount to see if that further increases your AOV. Amazon does this really well with Book bundles!
3. Product Upsells during checkout 🚀
Checkout is the final stage in the 'Happy Flow' of a customer. This is a great place to suggest a related or complementary product to the ones in your customer's basket. This strategy can also apply to consumer applications and SaaS products quite effectively.
You can present customers with classic upsells before/ during the checkout process to increase the Average Order Value.
However these upsells must be pursued only in Happy Flows like
After an item in added to cart
After a customer reaches the checkout page
4. Cross Sell Related Products ⚔️
This is a strategy where you suggest products that are complementary or are closely related to the product in your basket. For example, if your customer bought a shoe, you might suggest a couple of socks & shoelaces. Maybe you can also suggest a jacket that goes well with it.
If your customer just bought a computer monitor, you can suggest a keyboard and a mouse that goes along with it.
5. Customer loyalty programs 🫂
You can create loyalty programs which offer store credits for the total value of your bill. You can also offer discounts on certain products when the overall bill value is above a certain amount. The
Starbucks loyalty program
is a brilliant case study for anyone building from scratch.
6. Create recurring membership plans 🙏🏼
Membership plans like 'Swiggy One', 'Flipkart Plus' improve both Average Order Value & Net Customer Retention. When a customer buys a membership it adds an additional source of predictable revenue to the business. Sleepy Owl coffee has an interesting subscription for their coffee ☕
7. Financing options & Interest free instalments 🤑
If you are struggling to sell high ticket products, offering instalments is a great solution. You can partner up with fintech startups and banks to offer them on your app. Unavailability of free capital can be a big blocker in certain high ticket items.
Different financing options enables your customers to buy high ticket items and increase the AOV exponentially.
8. Marketing to the right audience 🤼
Nothing reduces overall AOV like selling the right product to the wrong customer. If you are struggling to increase AOV even after all the tips mentioned above, look into the folks who you are reaching with your marketing efforts
Is your marketing pitch conveying the value?
Is your marketing channel pulling in the right set of customers?
There are some questions you can ask yourself and define your core ICPs 🦾
9. Offering Add-Ons ➕
Add-Ons are pretty similar to product bundles. The only difference is that they make the product even more valuable to the user. If someone buys a gaming monitor, a gaming keyboard is a cross sell. It might not make the product experience a whole lot better.
But a monitor light and and a wipe will make the experience a whole lot better.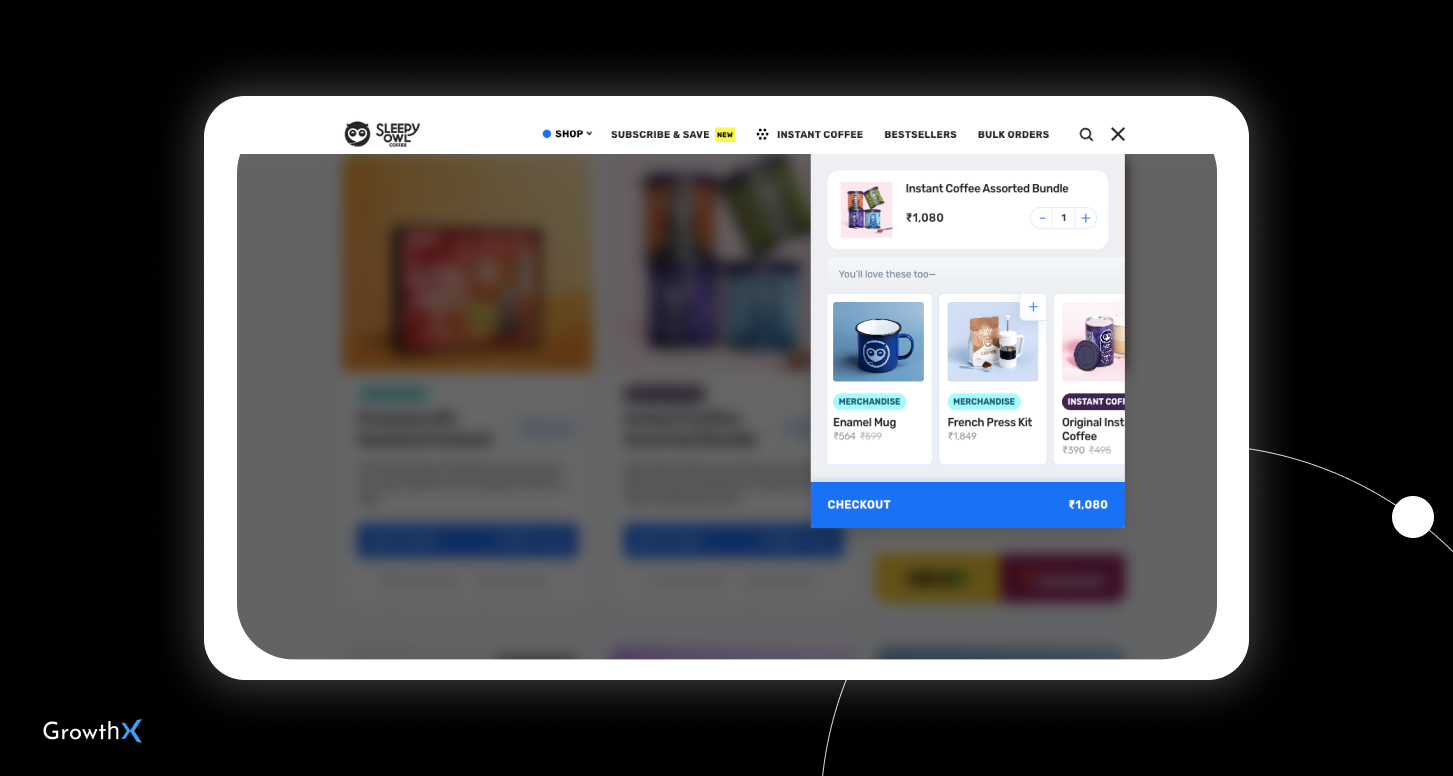 Similarly, if someone is buying coffee from Sleepy Owl, Coffee mugs and a french press kit are very useful add-ons ➕
4. What are some other metrics that affect AOV as well? 🪝
There are a ton of different metrics that tie in with Average Order Value (AOV). Here are the most common ones
1. Overall Website/ App Traffic 🚦
Traffic is the total number of people visiting your website or application. Sometimes there are only so many experiments you can run on your existing traffic. Increasing your marketing efforts and improving traffic will have a quick & significant effect on your AOV
2. Conversion Rate 🖱️
It makes no sense increasing your traffic, if none of those visitor are buying. Conversion rate is the measure of the amount of visitors buying from your app/ website.
3. Customer Lifetime Value (CLTV) 🏦
It is the total amount of revenue a customer will generate as long as they stay with your business. A couple of no brainer ways to increase CLTV is a great product, timely delivery and an incredible customer experience.
4. Gross Profit Margin (GPM) 📈
GPM is the profit made by a business after subtracting the Cost of Goods Sold (COGS). COGS includes
Everything else that takes to deliver the product to the customer.
Higher GPM means you can eventually invest more money back into the business to hire better, improve customer experience, improve delivery, increase storage etc..
5. Your Web/ App layout 🙌🏼
Your Web/ App layout affects how customers buy from your app. A couple of things you can do to increase AOV
Show reviews from customers
Include product descriptions
Feature financing Options
Include Trust Signals

Zepto - 'Sourced at 5 AM' stamp for vegetables & fruits
Amazon - 'Amazon Fulfilled' stamp
To increase overall AOV, you need to increase trust and also improve the discovery of both your cross sell and upsell items.
6. Your Acquisition Channels 🦾
Your acquisition channels may have both a direct and indirect impact on your AOV.
Direct Impact - It might not be pulling the right or ideal type of customers for your business
Indirect Impact - High CAC of a certain channel may add upto COGS, which eventually eat in your Gross Margins. This might prevent you from reinvesting any money into other distribution channels.
4. Here are some other metrics commonly used in the e-commerce industry
1. Cart abandonment rate 🛒
The number of people who add products to that cart and end up 'Not Buying'. A high drop off at the check out page is usually because of one or all of the following reasons
Low Trust With product or business
High Friction checkout process
2. Return On Ad Spend (ROAS) ↩️
It is the amount of revenue generated by your marketing campaigns for each dollar you've spent in it.
3. Customer Acquisition Cost (CAC) 💸
It is the average amount of money you spend to acquire one customer.
4. Retention Rate 🪝
The amount of customers retained by your business/ product over a specific period of time.
5. Exit Rate 🚪
The number of users who leave a page on your app/ website.
6. Cost Per Click (CPC) 🖱️
The amount of money you spend to generate one click for your website/ product ads.
7. Cost Per Acquisition (CPA) 🧐
This shows the cost of acquiring a new customer. It has the same meaning as CAC, but just a different verbiage.
8. Revenue Per User (RPU) 💳
The amount of revenue generated by one user.
9. Repeat Purchase Rate 🤸🏼‍♂️
The number of customers who make more than one purchase from your business.
Written by
GrowthX Editorial Team
Growth can be achieved in a profitable, scalable & sustainable way. That's what we write here, one blog at a time 🚀